DFT® AxialFlow Wafer Check Valve Built for Safety
Featured Product from DFT Inc.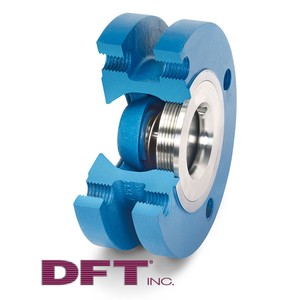 DFT's model TLW®, a Tapped Lug Wafer Check Valve, was built to address safety requirements and precautions in refinery and chemical applications but is relevant for any industry where studs are required not to be exposed to fire, corrosion, or other harsh chemicals. DFT has engineered and manufactured this tight sealing, non-slam, axial flow wafer check valve with a 1-piece solid body construction (to prevent leak paths) and no exposed studs, which could affect the integrity of the valve in the event of fire or corrosive environments.
Preventing Hydraulic Shock with TLW® Check Valves
As with all other DFT check valves, this silent check valve reduces the potential for reverse flow and water hammer and is designed for long life and low maintenance.
Watch this video to see how DFT Valve technology works in comparison to a double-door check valve.
The TLW® check valves eliminate the problem of water hammer by using silent, spring-assisted technology. Unlike traditional check valves, TLW® valves do not rely on the velocity of operating fluid or gravity for valve closure. The disc is closed by the spring assist on the valve as the forward velocity of the fluid slows.
This coupled with the relatively short distance the disc must travel, by the time the forward velocity of the liquid reaches zero, the valve disc would already have reached the seat, and the valve will have already closed. Reverse flow is eliminated, and therefore the forces necessary to produce water hammer on the upstream and downstream sides of the valve are substantially diminished.
The DFT Model TLW® Features:
The TLW® tapped lug wafer style check valve is relevant for any industry where studs are required not to be exposed to fire, corrosion, or other harsh chemicals. It can be utilized in liquid, gas, and steam applications for both horizontal and vertical installations.
The TLW® is a spring-assisted, center-guided check valve with a lightweight compact wafer-style design (fits between mating flanges) which meets API 594 face-to-face dimensions. Its testing meets MSS SP-61 and API 598 (shell and seat). The valve is available in 2" to 24" line sizes, and it is constructed of A216-grade WCB carbon steel or A 351 CF8M stainless steel. Other alloys per ASME 16.34 are available by request.
Standard trim materials include a stainless steel seat, disc, and bushing (optional soft seat seal available). Custom sizing is available for low flow applications. For further information on the TLW® or our full line of DFT Non-Slam, Silent Check Valves visit our website at
www.dft-valves.com, contact us at dft@dft-valves.com, or phone 1-800-206-4013.
DFT Inc. manufactures world-class, problem-solving, in-line, axial flow, nozzle style, silent check valves and severe service control valves. We provide cost-effective application engineering assistance, rapid prototyping, and fast-turn initial production. Our staff responds quickly and our systems are designed to deliver reliably within our ISO9001-2015 quality management system. For more than seventy years DFT has solved check valve problems, prevented check valve failure, water hammer, and solved severe service control valve problems.