DFT® Economical Spring-assisted Check Valve
Featured Product from DFT Inc.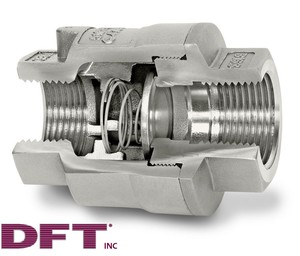 The DFT® Model SCV is a corrosion-resistant, dependable, versatile and economical spring-assisted, in-line check valve for a wide range of applications. Whether the fluid is liquid, gas or steam, the SCV provides tight shut-off and protects other equipment in the system from water hammer. Its stainless steel construction ensures a long service life.
Applications include Liquids, Gases, and Steam
For a detailed specification sheet, click here.
Features:
Horizontal or vertical installation
Sizes ½" thru 3"
750 & 3600 CWP,
NPT & SW ends
Stainless steel construction
Inconel® X-750 spring
Spring-assisted silent closing, non-slam
Zelon® "O" body ring
Body guided disc
Tight shut-off lapped disc & seat
Simplified construction - 5 parts
Easy maintenance
Versatile
Options

3166 SS Springs
Body Seal Weld
Soft Seat
Alloy 20 body & seat (ASME 300)
Hastelloy C body & seat (ASME 300)
NPT x socket weld ends
SCV-R restrictor check (higher cracking pressure)
Butt weld ends
NACE
DFT Inc. manufactures world-class, problem-solving, in-line, axial flow, nozzle style, silent check valves, and severe service control valves. We provide cost-effective application engineering assistance, rapid prototyping, and fast-turn initial production. Our staff responds quickly and our systems are designed to deliver reliably within our ISO9001-2015 quality management system. For more than 75 years DFT has solved check valve problems, prevented check valve failure, water hammer, and solved severe service control valve problems.