DFT® Sanitary Check Valves for 3A & Clean-in-Place
Featured Product from DFT Inc.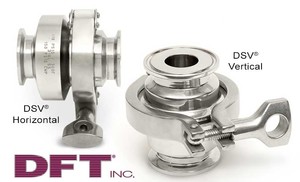 The DSV® Sanitary Check Valve is an in-line spring-assisted check valve designed to prevent flow reversal in industries with strict cleanliness codes. To accommodate various piping arrangements, the DSV® Sanitary Check Valve is available as a "Vertical" or "Horizontal" valve.
Features of the DSV® Check Valve include:
Meets 3-A Sanitary Standards
Clean-in-place (CIP) valves
Vertical and horizontal orientations
Quick release clamp
Elastomeric body seal
The Horizontal valve is for Horizontal lines requiring self-draining. The "Vertical" design is for "Vertical" and "Horizontal" installations when a self-draining valve is not required. The DSV® Sanitary Check Valve has a 316L stainless steel body and seat, 32 Ra internal finish, is fastened with a quick release clamp and an elastomeric body seal to permit fast and easy access to the internals. Disc and seat are hand lapped to provide an excellent shutoff.
Learn more about the advantages of the DSV® Check Valve, by downloading the DSV® Check Valve Cut Sheet.
Contact us:
email: dft@dft-valves.com phone: 610-363-8903 www.dft-valves.com
DFT® provides cost-effective application engineering assistance, rapid prototyping, and fast-turn initial production. Our staff responds quickly and our systems are designed to deliver reliably within our ISO9001-2015 quality management system. For more than 75 years DFT has solved check valve problems, prevented check valve failure and water hammer, and solved severe service control valve problems.
DFT® offers a wide array of check valves including Sanitary valves, non-slamming, and non-return valves, chemical valves, vacuum breaker valves, restrictor valves, compressor valves, wafer, threaded, and flanged valves, socket weld valves, soft seat valves, in-line valves, straight-thru design valves, silent check valves, spring assisted valves, horizontal, and vertical valves. visit us online at dft-valves.com