DFT® Tight Shut-off Check Valves for Steam Service
Featured Product from DFT Inc.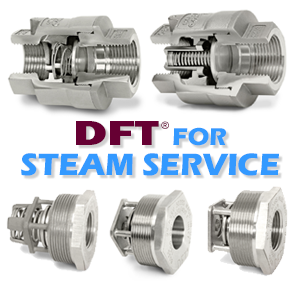 DFT has a full line of Steam Service Check Valves available in sizes 1/2" and up.
Below is a highlighted collection of non-slam, tight shut-off check valves for your 4" and under steam service applications including:
• DFT Model Basic Check® • DFT Model Restrictor Check
• DFT Model SCV® • DFT Model SCV-R®
• DFT Model Vacuum Breaker
Over the years, many different industries have asked DFT which of our Check Valves are the best for their 4" and under piping steam service applications. We know this is important to you also.
For your convenience, we have packaged information datasheets of our five styles of non-slam, tight shut-off check valves for 4" and under piping applications for your steam service maintenance.
Our commitment to manufacturing parts that meet a wide variety of different codes and standards is only one of the ways DFT ensures we provide you with the right valves for any project.
DFT provides check valve solutions for a variety of applications across all industries.
Our DFT valve experts can help you select the best valve for your specific application.
About DFT® Inc. DFT® Inc. manufactures world-class, problem-solving, in-line, axial flow, nozzle style silent check valves, and severe service control valves. We provide cost-effective application engineering assistance, rapid prototyping, and fast-turn initial production. Our staff responds quickly and our systems are designed to deliver reliably within our ISO9001-2015 quality management system. For more than seventy years DFT has solved check valve problems, prevented check valve failure and water hammer, and solved severe service control valve problems.
For further information on all DFT's Non-Slam, Silent Check Valves visit our website @ www.dft-valves.com, or contact us at: dft@dft-valves.com, or phone 1-800-206-4013.