DFT Webinar: Pump & Compressor Superior Protection
Featured Product from DFT Inc.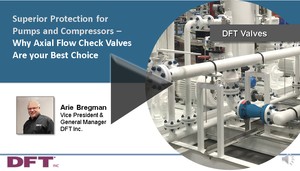 Watch our DFT webinar to learn how you can protect your pump and compressor investments. Available Now On-Demand 24/7 and free!
Pumps and compressors are essential devices used in a wide range of industrial plants and buildings. They make it possible to transport compressible gasses and fluids in a system from one location to another with high levels of efficiency.
Whether it is the petrochemical, power generation, pharmaceutical, pulp & paper, mining, food & beverage, or specialty chemical industry, they all rely on this equipment daily to keep fluids and gasses flowing between processes in a seamless and uninterrupted manner.
Both pumps and compressors can vary widely in terms of size and output, largely depending on the gas or fluid being pumped and the power required by the specific application. They can range from small portable units for domestic use, to large-scale industrial equipment capable of supporting whole facility systems.
Regardless of whether you use pumps or compressors, both are critical power sources and are a significant investment in your fluid flow systems that needs protection.
Check valves are the vital safety protection to pumps and compressors, ensuring safe and effective operation by preventing reverse flow. Find out in this webinar why axial flow check valves are the best choice in protection to safeguard your systems.
Key Takeaways
Understand common problems with pumps and compressors.
Discuss solutions to common problems with pumps and compressors.
Learn how axial flow valves protect your pump and compressor investment.
Review the basics of how pumps and compressors operate.
Webinar Speaker: Arie Bregman, Vice President and General Manager, DFT Inc. - Exton, PA, USA.
Arie has spent over 35 years in the valve industry, with companies such as Nibco, Jamesbury, and Metso. Arie holds a Master of Science degree in Mechanical Engineering from Worcester Polytechnic Institute. He is active in the Valve Manufacturers Association (VMA) in the US, serving on the Education and Training and the Technical Committee and is also a member of the VMA Board of Directors.