DFT's New BNC™ Check Valve: Efficient Axial-Flow
Featured Product from DFT Inc.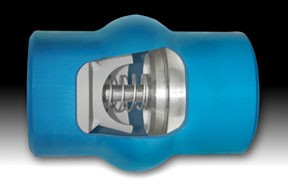 DFT Inc. proudly announces the release of its new BNC™ Check Valve, a nozzle-style, axial-flow check valve specifically designed to excel in high-pressure applications.
Many natural gas companies and other industries are now placing their pipelines below ground and are looking for a one-piece valve they can weld in and bury. The BNC™ Check Valve answers that demand with a precision nozzle-style valve that uses axial-flow technology to eliminate turbulence and prevent erosion and vibration. This design reduces downtime and maintenance costs and boosts capacity and accuracy.
Additionally, this valve provides a critical service to the power industry because the valve's one piece body eliminates leak paths, while providing tight shut off, and is designed for long life.
The BNC Check Valve is a spring-assisted, center-guided, non-slam check valve. It has an in-line globe-style body with butt weld ends, with the seat integral to the valve body.
•ASME class 600, 900 and 1500
• Spring-assisted silent closing
• ASME B16.34 and API 6D
• Center-guided/dual-guided stem
•Butt weld ends
• Standard Body Materials:
• A216 WCB carbon steel
• A351 CF8M stainless steel
• Other options available upon request
• Stainless steel trim
• Custom sizing for low flow applications
The design meets API 6D and ASME B16.34, and its testing meets MSS SP-61 and API 598 (shell and seat). The valve is available in 10″ to 24″ line sizes, and it is constructed of A216-grade WCB carbon steel and other alloys per ASME 16.34 by request.
Trim materials are stainless steel with a hard-faced seat and disc. The valve can be installed either horizontally or vertically and is compatible with steam, water, and gaseous media. Custom sizing for the BNC™ Check Valve is available.
For further information about the BNC™ Check Valve and on all DFT's Non-Slam, Silent Check Valves visit our website @ www.dft-valves.com, or contact us at: dft@dft-valves.com, or phone 1-800-206-4013.
About DFT:
DFT Inc. manufactures world class, problem solving, in-line, axial flow, nozzle style silent check valves and severe service control valves. We provide cost effective application engineering assistance, rapid prototyping and fast-turn initial production. Our staff responds quickly and our systems are designed to deliver reliably within our ISO9001-2000 quality management system. For more than 70 years DFT has solved check valve problems, prevented check valve failure and water hammer and solved severe service control valve problems.