Prevent Water Hammer and Reverse Flow
Featured Product from DFT Inc.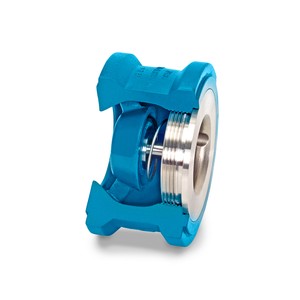 Have a problem with failing double door style check valves ? Who doesn't!
Want to prevent "water hammer" and "reverse flow" and have tight shut-off? Sure you would!
Why are you consistently specifying or replacing check valves that are costing you money? Break the habit and upgrade to a DFT check valve that works!
DFT Inc. has the solution to replace those problem check valves - the ALC. Offered from 2"-24", ASME Class 150#-300# , meeting API-594 face to face dimensions, in both A216 grade WCB Carbon Steel and A351 CF8M Stainless Steel bodies with all Stainless Steel trim. These center guided, non-slam, spring assisted silent check valves are a direct replacement for those constantly failing double door style check valves.
The ALC can be used in both the vertical or horizontal positions, available with a Inconel X-750 springs, 0.5 psi cracking pressure and the meets, or exceeds, MSS SP 61 specifications. Metal to metal seats or soft seats for zero leakage. Applications include liquids, gases or steam. Tapped lifting lug holes are provided in the body for ease of installation in the 10" and larger ALC's.
For more information on the ALC, and our full line of Non-Slam Silent Check Valves available from DFT Inc., visit our website at www.dft-valves.com or contact us at dft@dft-valves.com, or phone 1-800-206-4013.