Replacement for Failing Piston Check Valves
Product Announcement from DFT Inc.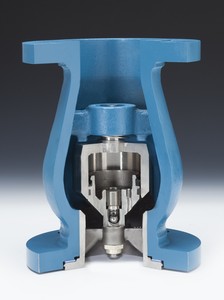 DFT's PDC check valve-Designed specifically for reciprocating compressors.
It includes a pulse damping chamber to maintain the disc in the open position during the momentary reductions in flow associated with each cycle of a reciprocating compressor and to protect against premature seat wear.
Features:
Pulse damped design
Modulating "air" or "gas" applications:
- discharge of reciprocating air/gas compressors
- self-sizing
- accommodates varying flows without chattering
Mediums:
- air
- gas
Meets API 6D
ASME B16.10 Face-to-Face dimensions
One piece body
Spring-assisted silent closing
2" to 20" Line size available and will quote larger
ASME 150 to 1500
WCB, 316 SS & LCC body
SS trim
SS spring (450°F max)
Ends:
- RF Flanged
- RTJ
Center guided
Horizontal or vertical installation
Tight shut-off
Protected spring
Easy maintenance
Versatile
Options
- Soft seat
- Inconel® X-750 Spring (500 degree F max due to nonmetallic components)
-Monel trim
-NACE
For the PDC Features and Cut Sheet - Click here
About DFT Inc.
DFT provides cost-effective application engineering assistance, rapid prototyping and fast-turn initial production. Our staff responds quickly and our systems are designed to deliver reliably within our ISO9001-2008 quality management system. For more than 70 years DFT has solved check valve problems, prevented check valve failure and water hammer and solved severe service control valve problems.
DFT offers sanitary valves, non-slamming, and non-return valves, chemical valves, vacuum breaker valves, restrictor valves, compressor valves, wafer, threaded, and flanged valves, socket weld valves, soft seat valves, in-line valves, straight-thru design valves, silent check valves, spring assisted valves, horizontal, and vertical valves.
DFT is available to review your valve sizing requirements and assist you in selecting from a Basic Check® valve, BNC valve, Excalibur® valve, DLC® valve, SCV® valve, GLC® valve, WLC® valve, PDC® valve, Y-Calibur ® valve, HI-100 control valve, Ultra-Trol® control valve or Uniflo valve.
---