Water Hammer? DFT® Check Valves Prevent it….
Featured Product from DFT Inc.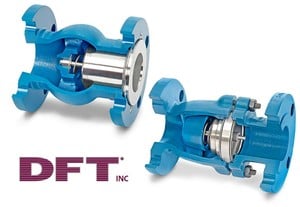 The DFT® model Excalibur® and GLC® Check Valves are center guided, spring-assisted, dependable, in-line check valves for a wide range of applications. These Check Valves provide tight shut-off and protect other equipment in the system from water hammer in liquid, gas or steam services.
Built for reliability, longevity, and low maintenance, the GLC and Excalibur Check Valves are not susceptible to the failures experienced with swing checks due to the slamming of the disc against the seat.
View DFT's Video: GLC vs. Swing Check Valve and see how the spring-assisted GLC® check valve closes silently as the flow stops, but before reversal of flow, thereby eliminating water hammer.
DFT® Inc. is a manufacturer of the broadest product offerings of in-line, spring assisted, and silent check valves, built for liquid, steam or gas applications. Materials range from WCB, SS, to exotic alloys including Nickel-Aluminum Bronze.
And did you know DFT® would size your check valve based on YOUR flow conditions?
Contact us today for more information.
Want to find out more about the Excalibur® or the GLC Check Valve and the other quality DFT® check valve product line ranging from ½"-36"? Contact us at dft@dft-valves.com and visit our website at www.dft-valves.com.