Y-Calibur Valve Makes In-Line Repairs Possible
Featured Product from DFT Inc.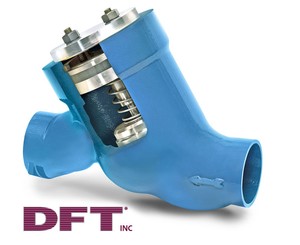 The DFT® Y-Calibur® Silent Check Valve is an in-line repairable, spring-assisted, center guided, non-slam check valve that provides reliable, low-maintenance service for a wide range of fluids and pressure/temperature combinations. The valve consists of a body, bonnet, gasket, seat, spring, disc with stem and guide bushing. Y-Calibur check valves are available in a wide range of sizes and pressure ratings and in a variety of materials to meet most check valve requirements.
Features:
Spring-assisted silent closing, non-slam
4" to 14" Line size *
ASME B16.10 Face-to-Face dimensions
ASME Class 600 to 2500 (See chart)
Standard body materials:

A216 WCB carbon steel
A351 CF8M stainless steel

Optional body materials:

Duplex SS, Hastelloy®, Inconel® 600, Monel®

Standard ends:
Stainless steel trim

Other materials available

Center-guided
Dual-guided stem & disc
Horizontal or vertical installation
Tight shutoff
Protected spring
Fully repairable in-line
Versatile
Axial flow/non-slam design
Options:

Inconel® X-750 Spring
Custom sizing low flow
Severe service trim
Stellite® trim
* other sizes available on application
Contact us:
dft@dft-valves.com
610-363-8903
About DFT Inc.
DFT provides cost-effective application engineering assistance, rapid prototyping, and fast-turn initial production. Our staff responds quickly and our systems are designed to deliver reliably within our ISO9001-2015 quality management system. For over 75 years DFT has solved check valve problems, prevented check valve failure and water hammer, and solved severe service control valve problems.