Versa-Slide® Line of Economical Standard Slides
Product Announcement from DME Company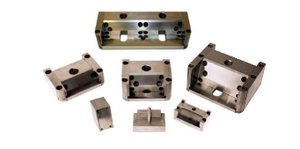 DME Company, a leading manufacturer of mold technologies, announced a new line of labor-saving Versa-Slide® Standard Slide Assemblies. Moldmakers can use these versatile standard slides in place of the different slides that many customers have been creating on their own. As a result, Versa-Slide reduces design time and overall tooling costs – cutting moldmakers' costs by as much as half.
Available for immediate shipping in a large range of sizes, the slides are available as either a complete assembly or individual components. With 10 different overall widths, components can be mixed to form thousands of combinations. The sliding mechanics are finish ground, with 0.005" grind stock left on the overall width, bottom of wear plate and slide angle.
DME Versa-Slide Standard Slide Assemblies, which support precise alignment of mold opening and closing functions, provide benefits for mold makers including:
Reduced costs compared to making custom slides for each application.
Faster changeover of damaged components because the components are standardized and interchangeable.
A quicker, simpler design process with downloadable CAD geometry.
Flexibility for a vast array of applications, with a wide range of size options.
Shorter lead time, with many slides available for immediate shipping.
Made in the U.S.A., there is a distinct advantage to using these off-the-shelf components. Downtime and cost are greatly reduced due to replacements being available for immediate shipment and spares are not required during the mold building process.
---