8 Crucial Quality Management Principles
Service Detail from DNV GL - Business Assurance North America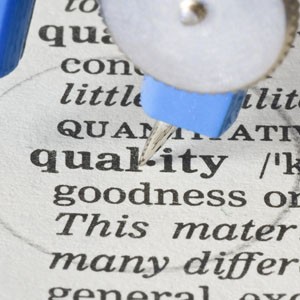 8 Crucial Quality Management Principles
ISO 9001:2008 references ISO 9000:2005, Quality management systems - Fundamentals and vocabulary, that establishes the terminology and definitions used. Since this standard is a normative reference for ISO 9001:2008, it is absolutely critical to understand the principles.
These are eight quality management principles to facilitate the achievement of quality objectives.
1) Customer focus
Organizations depend on their customers and, therefore, should understand current and future customer needs, meet customer requirements, and strive to exceed customer requirements.
2) Leadership
Leaders establish unity of purpose, direction, and the internal environment of the organization. It is up to the leadership to provide an environment conducive to involving personnel to ensure that objectives are achieved.
3) Involvement of People
It is critical that personnel at all levels of the organization be involved in trying to achieve the organization's quality objectives. Without everyone's involvement, the maximum benefits cannot be realized.
4) Process Approach
The desired result is achieved more efficiently when related resources and activities are managed as a process.
5) System Approach to Management
Identifying, understanding, and managing a system of interrelated processes for a given objective contributes to the effectiveness and efficiency of the organization.
6) Continual Improvement
An organization must be committed to continual improvement on an ongoing basis.
7) Factual approach to decision making
Effective decisions are based on logical or intuitive analysis of data and information.
8) Mutually Beneficial Supplier Relationships
The ability of an organization and its suppliers to create value is enhanced by mutually beneficial relationships.
These quality management principles can be used by top management as the basis for its role in the following:
Establishing the quality policy and objectives of the organization
Ensuring focus on customer requirements throughou the organization
Ensuring that appropriate processes are implemented to enable customer requirements to be fulfilled and quality objectives achieved
Ensuring that an effective quality management system is established, implemented, and maintained to achieve these objectives
Ensuring the availability of necessary resources
Comparing the achieved results against the quality objectives set
Deciding on actions regarding the quality policy and quality objectives
Deciding on actions for improvement
This page is an excerpt from DNV's ISO 9001:2008 Interpretive Guidelines, which is available for purchase.
Get a free cost estimate for ISO 9001:2008 Certification online!
Or, receive a no obligation quote on any of our services.
---