CE Marking - Your Passage to Europe
Service Detail from DNV GL - Business Assurance North America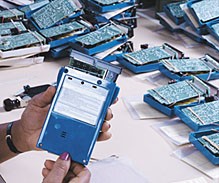 CE Marking - Your Passage to Europe's Largest Economy
Business Challenge
The combined economy of the European Union (EU) is the largest in the world with a nominal GDP of 15.7 trillion in 2007. The EU has a single market between member states with a common trade. In all the European economic area consists of 30 countries and is the second largest importer in the world. Entry into this market is recognizably an essential goal for most companies' success.
An ever expanding amount of products are exported and sold in the European market. The CE Mark declares that your product meets the essential requirements of all relevant EU directives and must be applied to any product covered by an EU directive.
The CE marking is mandatory and must be affixed before any product subject to it is placed on the market or put into service.
CE Marking
By affixing the CE Marking, the manufacturer, its representative or importer has indicated:
That the product can be legally sold within the European Union (EU) and the European Free Trade Area (EFTA).
Ensures the product can move freely throughout the European single market.
Indicates to customers that the product meets minimum safety standards and conforms to all applicable community provisions.
To get examples of European Directives requiring the CE Marking which DNV can assist you in accomplishing, click here.
---