The BRC (British Retail Consortium)
Service Detail from DNV GL - Business Assurance North America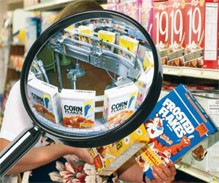 The BRC (British Retail Consortium) Global Standard for Food Safety was created to ensure supplier compliance and secure retailers' ability to guarantee the quality and safety of the food products they sell. Today it is used worldwide as a framework for any business (retailers and processors) to assist the production of safe food and the selection of reliable suppliers.
The BRC Global Standard for Food Safety is one of the operational tools most frequently used for due diligence and supplier approval. It helps companies to select and qualify their suppliers. Thus, the system reduces the overall costs of the supply chain management and increases the level of safety for customers, suppliers, and consumers. Regarded as a ticket to-trade, the standard is also a great opportunity to demonstrate your company's commitment to food safety, quality, and legality, and to work on continual improvement. BRC Global Standard for Food Safety meets the criteria of the Global Food Safety Initiative by CIES – The Food Business Forum, the global organisation including CEOs and senior management of around 400 retailers (operating close to 200,000 stores) and manufacturer members of all sizes. In other words it is going to be accepted by the majority of food retailers as equivalent to the other benchmarked food safety standards, such as IFS, SQF and the Dutch HACCP.
What is the standard?
The main retailers in the United Kingdom were concerned about food safety because of their direct responsibility in case of an incident. To take control of the situation, retailers require that all food suppliers be certified to a specialised standard to ensure that they comply with quality and safety demands, and legal requirements. After it was first issued in 1998 the standard was regularly improved, involving international stakeholders in the supply chain. Today it is a global tool based on the most recent and updated food safety standards and methodologies. The requirements in the standard are related to the quality management system and the HACCP system, supported by detailed prerequisite programmes, that is a set of GMP (Good Manufacturing Practice), GLP (Good Laboratory Practice) and GHP (Good Hygiene Practice) requirements.
Why is certification good for my business?
Most Britsh and many European and Global retailers and brand owners, as well as food processors, only include suppliers certified to the BRC Global Standard for Food Safety in their supply chain. The BRC Global Standard for Food Safety enables your organisation to:
• Provide evidence of commitment, and, in case of a food safety incident, legal defence in the frame of the "due diligence" concept*
• Build and operate a management system capable of helping you to better meet food quality/safety requirements and legal compliance, with specific reference to the legislation applicable in the countries where the finished product is consumed
• Provide a tool for food safety performance improvement and the means to monitor and measure food safety performance effectively
• Facilitate reductions in product waste, product reworking, and product recall
Certification to BRC Global Standard for Food Safety also supports efficient supply chain management by reducing second party audits and increasing your overall supply chains reliability.
---