Simultaneous 16 channel Waveform Digitizer
Product Announcement from D-TACQ Solutions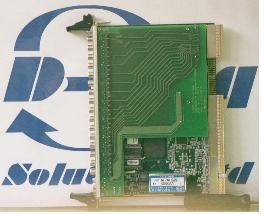 Intelligent waveform digitizer with high throughput, maximum possible channels and deep memory, capable of both conventional peripheral mode and standalone networked operation. Standalone networked operation allows deployment near the signal source with very low overhead - use a low cost slimbox chassis, connect network and power in the back panel, connect plant cabling direct to the front panel.
The standard board can be configured in software for the following sample rates:

16 channels simultaneous analog input, 16 MSPS/channel.
12 channels simultaneous analog input, 22 MSPS/channel.
08 channels simultaneous analog input, 25 MSPS/channel.
04 channels simultaneous analog input, 50 MSPS/channel.

Hardware options - faster ADC devices:

08 channels simultaneous analog input, 33 MSPS/channel.
04 channels simultaneous analog input, 65 MSPS/channel.
04 channels simultaneous analog input, 80 MSPS/channel, burst mode

14 bit Flash ADC per channel.
High bandwidth - sustained 530 MByte/sec data flow to memory.
Analog mezzanine for application specific input signal conditioning, differential input and per-channel software selected input voltage, currently there are three to choose from.
Plant cable interface to front panel - 16 dual pin LEMO connectors on front panel.
Option for Rear IO.
Optional Rear Transition Module RTM with ethernet and 32 DIO.
External clock, trigger, internal clock. PXI compatible clock and trigger lines. Multiple boards can be ganged together.
Up to 1GB DDR memory on board. 64bit/66MHz backplane PCI interface.
400MHz RISC processor, runs embedded Linux. Easy software enhancement and good connectivity.
Dual gigabit ethernet option, PCI Industrial Computer Manufaturers Group (PICMG) 2.16 compatible.
Runs as traditional peripheral board, also capable of standalone and system slot functionality.
Option to use the Field Programmable Gate Array (FPGA) as a DSP co-processor. Ask D-TACQ for details of standard functions as well as possibilities for custom and user development.
Suits many applications as a high speed transient recorder with deep memory, and continuous monitoring application, where the card can handle multiple successive events with zero deadtime.
Learn more via the links on the left - or e mail us your inquiries
---