Photovoltaic Backsheets
Product Announcement from DUNMORE Corporation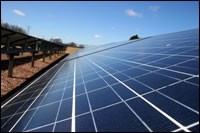 Solar energy is inexhaustible and the cleanest source on earth. In one hour the sun delivers as much energy to the earth's surface as mankind consumes in one year. Solar energy is clean, sustainable, globally available, and does not harm the environment.
Photovoltaics produce electricity directly from sunlight without any emission, any noise, CO2 or any waste, and can be made totally independent from fossil fuels.
As a manufacturer of insulation products for satellites which have to deal with very challenging environmental conditions, DUNMORE brings that same expertise to the development of laminated films under the brand of DUN-SOLAR™ for the back panel in photovoltaic modules.
Backsheet performance is impacted by a variety of factors. The validation of overall backsheet performance and value can only be confirmed by testing with specific test procedures. DUNMORE works very closely with the world famous Fraunhofer Institute for Solar Energy Systems ISE which is located in Freiburg Germany along side our European facility.
DUN-SOLAR™ products are produced and tested in conformance with all common standards and regulations.
Because of the perfect mechanical, electrical and chemical properties of DUN-SOLAR Backsheet as well as its extraordinary resistance to weathering, it ensures effective protection for all of the sensitive photovoltaic components throughout the module.
Please request information to find out more about DUNMORE's photovoltaic solutions.
---