100 Watt DC/DC Converter for Railway Applications
Featured Product from Daburn Electronics & Cable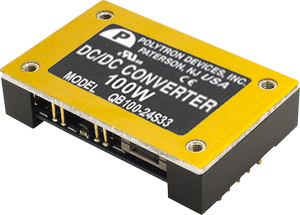 Polytron Devices' QB100 Series quarter-brick DC-DC converter, ideal for railway applications, features a remote control, no minimum load requirement and low standby power consumption. Equipped with a compact 2.28" x 1.45" x 0.50" quarter brick package, these models also meet UL60950-1, EN60950-1 and IEC 60950-1 safety standards.
Features include:
4:1 Ultra Wide Input Range
High Efficiency (up to 90%)
2250Vdc Input to Output Basic Insulation
CE Marked
Compliant to RoHS II and Reach
Click here to learn more and to download a data sheet.