100 Watt Half-Brick for Railway Applications
Featured Product from Daburn Electronics & Cable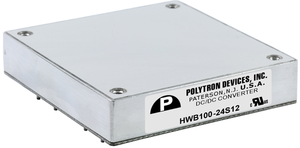 Polytron Devices' 100 watt half brick DC-DC converter for railway applications features an adjustable output voltage, optional sync and a remote control. It also includes short circuit, over voltage and over temperature protection, as well as an optional terminal block and heat sink. This series also meets UL60950-1, EN60950-1 and EN50155 safety standards.
Features include:
No Minimum Load Required
2250Vdc Input to Output Basic Insulation
Railway Applications
4:1 Wide Input Voltage Range
(9-36, 8.5-36, 16.5- 75 and 43-160Vdc)
High Efficiency Up to 91%
Adjustable Output Voltage
Remote Control
Sync (Optional)
Under Voltage Protection
Output Current Protection
Short Circuit Protection
Over Voltage Protection
Over Temperature Protection
Industry Standard Half Brick Footprint
Terminal Block Optional
Heat Sink Optional
Safety Meets UL60950-1, EN60950-1 and EN50155
CE Mark Meets 2006/95/EC, 2011/95/EC and 2004/108/EC
Compliant to RoHS EU Directive 2011/65/EU and REACH
Dimensions 2.28"× 2.40" × 0.50"
Click here to download data sheet.