#2420 Ultra-Flexible Microminiature FEP Lead Wire
Featured Product from Daburn Electronics & Cable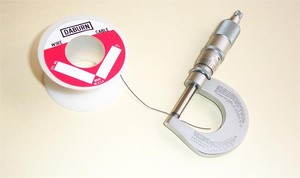 Ultra flexible high strand count bare copper conductor insulated with a 3.5 mil wall of non-hygroscopic fluoropolymer (FEP). Silver-plated copper can be substituted for a 200° C rating. Used for critical physiological and medical applications where small diameters, long flex-life and non-toxic insulations are of primary consideration. It's designed for long usage in flow probes and pressure measuring instruments. It also withstands severe, repeated flexing in very high and low temperatures.

Description: Single conductor stranded bare copper insulated with non-hygroscopic fluoropolymer (FEP) insulation. This construction allows for a uniform, flexible, concentric, quality construction.

Operating Temperature: -150°C to +150°C (call for silver plated copper for 200°C)

Voltage Rating: 150V.

This series is RoHS compliant.

Daburn Electronics & Cable has been providing a broad range of electronic products for 51 years. We supply wire, cable and associated hardware, shrinkable tubing, sleeving and cold shrinking tape. We inventory in depth and ship within hours from our vast warehouse stock. We are ISO 9001:2008 & AS9100 certified and we can produce over 500 UL certified styles of wire and cable.