#2671 DAFLEX Ultra Flexible Sub-Miniature Wire
Featured Product from Daburn Electronics & Cable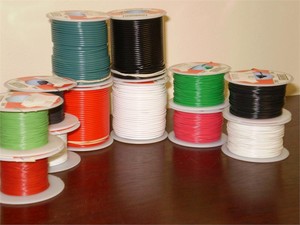 DAFLEX ultra flexible sub-miniature hook-up wire series using fine, soft bare stranding and thin PVC walls, is designed for continuous flexing applications such as data processing, mercury thermostats, magnetic memory drums, rotation servo platforms and robotics. The insulation offers superior limpness and flexing characteristics from -40°C to +80°C. It is specially formulated to minimize fatigue and kinking, and it resists acids, alkalis, oils, solvents.
This series is available RoHS compliant.
Description: Stranded soft bare copper conductor, insulated with a thin wall of specially formulated PVC.
Operating Temperature: -40°C to +80°C.
Voltage Rating: U/L 1007/1569 - 300V, U/L 1692 - 30V, U/L 1568 - 150V
Visit Daburn's on line store to purchase this product BUY NOW!