DAFLEX Miniature & Subminiature Shielded Cable
Featured Product from Daburn Electronics & Cable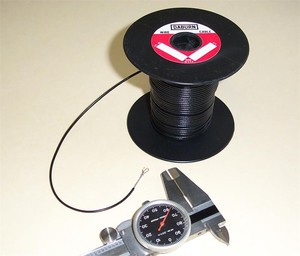 #2708 - #2714 DAFLEX Ultra-Flexible Miniature & Subminiature Shielded Cable
This series is suited for low voltage applications where flexibility is required; such as missiles, computer, bio-medical instruments, recorders and servers.
Description: Each conductor in the cable is flexible, finely stranded bare copper (tinned copper on 2752/5), covered overall with a thin wall of color coded, soft, flexible PVC insulation. The conductors are cabled and covered with a TC braid shield and a soft flexible black PVC jacket. White is available to order.
Operating Temperature: -40°C to +90°C.
Operating Voltage: 200V.

This series is RoHS Compliant.
Daburn Electronics & Cable has been providing a broad range of electronic products for 51 years. We supply wire, cable and associated hardware, shrinkable tubing, sleeving and cold shrinking tape. We inventory in depth and ship within hours from our vast warehouse stock. We are ISO 9001:2008 & AS9100 certified and we can produce over 500 UL certified styles of wire and cable.