Braid, Tinned, Silver, Nickel, SS, Tubular or Flat
Featured Product from Daburn Electronics & Cable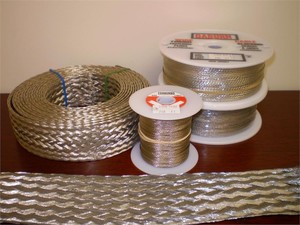 Braided wire is available in sizes that range from 1/32 of an inch up to three inches wide. Braid can either be tubular or rolled flat. Flat braids are typically used for flexible connections, electrical leads and grounding straps while tubular braids are usually used as shielding around other cables.

Tinned copper, Nickel Plated Copper and Sliver Plated Copper Braid are available in rolled-flat or tubular form and many sizes conform to QQ-B-575 & A-A-59569 specifications. Stainless Steel Briad is available in tubular only. Minimum website orders are 100 feet. Please call to order smaller quantities.

For each product please see the link below for detailed specifications and pricing.