Compact, High-Wattage Power Supplies
Featured Product from Daburn Electronics & Cable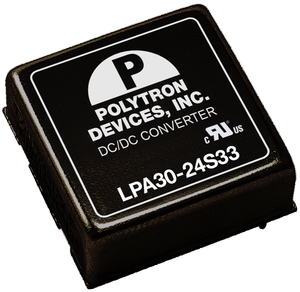 Power supplies come in a wide range of sizes and wattages for convenient use in many applications. And sometimes, you need a power supply that takes up little space but still packs a punch. Since compact, high-wattage units are so easy to integrate, they've become a reliable option for applications like wireless networks, tele and data communications, industry control systems, distributed power architectures and semiconductor equipment.
An example of this type of power supply is our LPA30 and LPB30 series of DC-DC converters. Let's take a closer look.
At a glance. With an extra small low profile package of 1.0" x 1.0" x 0.39", these 30-watt power supplies offer higher wattages than many similarly-sized units. The only difference is that the LPA30 has a 2:1 wide input voltage range, while the LPB30 has a 4:1 wide input voltage range.
Click here to learn more and download the LPA30 and LPB30 datasheets.