DAFLEX Ultra-Flexible FEP Subminiature Cables
Featured Product from Daburn Electronics & Cable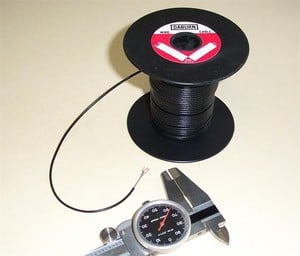 This series is suited for low voltage applications where flexibility is required; such as computer, bio-medical instruments, missiles, robotics, recorders and servers It can also be used for critical physiological and medical applications where small diameters, long flex-life and non-toxic insulations are of primary consideration. Useful wherever good flexibility and high temperature resistance is required.
Description: Each conductor in the cables is ultra-flexible, finely stranded silver plated copper covered with a thin 0.0035" (0.089 mm) wall of color coded, FEP insulation. The conductors are cabled and covered with a thin 0.005" (0.127 mm) black FEP jacket. Shielded versions have a thin flexible 44 AWG silver plated copper braid over all conductors and underneath the jacket.
Operating Temperature: -150°C to +200°C.
Operating Voltage: 150 Volts.
This series is RoHS Compliant.