Dual Output Voltages Available in 6 Watt SIP
Featured Product from Daburn Electronics & Cable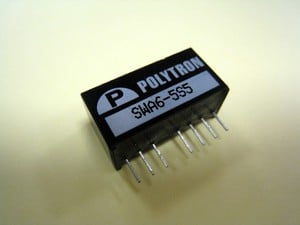 The SWA6 series is now available in single and dual outputs. Housed in a SIP 0.86 X 0.36 X 0.44 inch package, these DC/DC converters offer a wide input voltage range and up to 3000Vdc input to output isolation.
Polytron's SWA6 series of 6 watt miniature SIP converters is now available with 9Vdc output models, with 2:1 wide input voltage options of: 4.5-9, 9-18, 18-36 and 36-75Vdc.
CLICK HERE to see detailed specs and a Selection Guide for this product.
Visit Polytron Devices to learn more about our products.