LWB30 Series 30-Watt DC-DC Converter
Featured Product from Daburn Electronics & Cable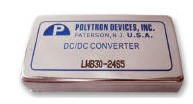 Polytron Devices' LWB30 Series DC-DC converter offers 30 watts of output power from a 1" X 2" X 0.40" package. Regulated, (4:1) Ultra Wide Input DC/DC Converter.
Features
30 Watts Output Power
Output Current up to 8.5A
Standard 2.00 X 1.00 X 0.40 Inch
High Efficiency up to 91%
4:1 Ultra Wide Input Voltage Range
Six-Sided Continuous Shield
Fixed Switching Frequency
CE MARK Meets 2006/95/EC, 93/68/EEC, and 89/336 EEC
Design Meets UL 60950-1, EN60950-1, and IEC60950-1
Compliant to RoHS EU Directive 2003/95/EC
Applications
Wireless Network
Telecom/Datacom
Industry Control System
Measurement Equipment
Semiconductor Equipment
Visit Polytron Devices, Inc. or contact us today for more product details.