Medically Certified Low Noise AC/DC Power Supplies
Featured Product from Daburn Electronics & Cable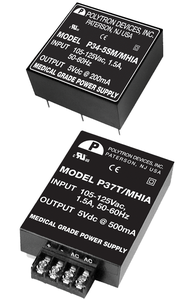 Available with either a PC mount package or chassis mount package with screw terminals, Polytron Devices' new MHIA series of AC-DC converters provides very low 1.0 RMS output noise for a wide range of medical applications. This series has 4000 Vac reinforced insulation, short circuit protection and 2 MOPP for patient protection. It also delivers a 2µA patient leakage current, CE certification and a regulation line and load from 0.02 to 0.2%. In addition, these AC-DC converters have an optional wide operating temperature range of -40 to +85°C. International AC input voltages are available with single and dual combinations, and outputs are available with single, dual and triple DC voltages.
Applications:
Surgical: Dialysis Equipment, Anesthesia Delivery, Surgical Devices
Patient Monitoring: Infusion Pump, Pulse Oximeter, Electrocardiograph
Imaging: Ultrasound, CT/MRI/X-Rays
Laboratory: Sterilizer, Mass Analysis, Lab Automation
Diagnostics: Clinical Chemistry Test, Microbiology Test
Equipment: Dental, Opthomology, Therapeutic Devices
Click here for product specs.
Download data sheet.

Learn how Hemedex, a maker of blood flow monitors, used Polytron Devices' MHIA power supplies in their next generation perfusion monitor.