Nylon, Dacron, Fiberglass, Nomex, PTFE Lacing Tape
Featured Product from Daburn Electronics & Cable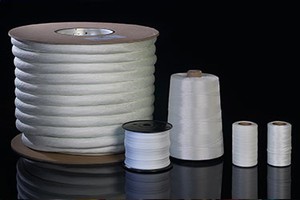 At Daburn we make and stock the 5 major types of Lacing Tape, Depending upon your requirements choose one of the five types below. On the product pages you will find full specification identification including mil spec size and finish. The five types are listed below with links to their product pages. You will also find a Low Outgassing version of type II and type IV lacing tape at the product link locations below.
We also make and inventory Lacing Cord that meets major industry standard specifications. Click one of the three lacing cord products below to see our specifications and sizes available.
Lastly we offer Spiral Wrap in four different material types and cold shrinking Stretch-N-Seal Tape. Click on the links below to see more information and sizes for these products.
Lacing Tape Cross Reference to Military and A-A Specifications

Lacing Tape Cross Reference to Daburn Part Numbers

NSN, Alpha and Gudebrod Equivalents

Daburn has identified Daburn equivalent products for most NSN Lacing Tape and Cord. See the link below for a listing of NSN numbers and the equivalent Daburn products. Also below is a cross reference of Alpha Wire and Gudebrod products to Daburn equivalents.

NSN Cross Reference

Alpha Cross Reference

Gudebrod Cross Reference

If you would like to view a product list of lacing tape, cord, or wrap, please visit your selected products individual page. You can view the mil spec, width, thickness, tensile strength and standard spool length. Please give us a call at 973.328.3200 if you need any assistance purchasing any of our products.