Custom Built Trackballs
Featured Product from Daco Hand Controllers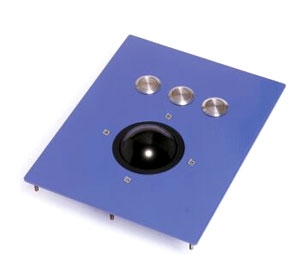 Established for over thirty years, and ISO9001 approved, Daco UK offers you the unique opportunity to obtain a high quality joystick, trackball or control grip, tailored to your military or industrial application at a realistic price, regardless of the quantity you order, or where in the world you are.
Standard products with a range of options that you can be use to configure a hand controller for most applications. Daco's modular system reduces prices, still further shortens delivery times and eliminates engineering charges.
A full design-and-build service, is available for your even more specialized requirements. Alternatively, you may be able to find your solution amongst the many hundreds of custom built designs they have already produced.
Usually such services are prohibitively expensive, particularly if you only need a small quantity of products, but this is not so with Daco. In most cases a product from their modular range can be used as a starting point with extra changes then being made to create a custom-built hand controller. As this new product still uses a high proportion of stock components both design times and engineering charges are kept to a minimum.
Of course, not all custom-built hand controllers will be able to take advantage of modular range components. Inevitably such products require more engineering input, and delivery times tend to be longer, but they are still reasonable and overall costs remain surprisingly competitive. This is because Daco has been making specialist hand controllers for over 30 years, ensuring that solutions to most problems already exist inside the company.
All Daco products are manufactured under an ISO 9001 approved quality system and are covered by a minimum 2 year warranty.
To learn more about how Daco can create custom controllers to suit your needs use the "See Product Details" weblink on the right or e mail us. We welcome your inquiries