Customized Dual Handheld Controllers
Featured Product from Daco Hand Controllers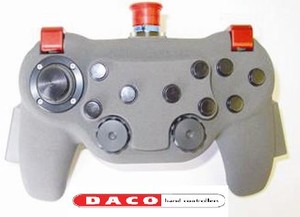 Daco Scientific has developed 30 different design configurations of this controller. As a platform for design, these units are initially modified from our modular range to provide an exclusive and custom designed hand controller to meet our client's specific needs. Options available for this controller include a range of force sensor miniature displacement joysticks, various switches, knob styles, sealed deadmans handles and guarded triggers and in-grip serial interfaces, including USB.
Daco offers a free design service where we prepare an initial drawing proposal for our customer's approval at no additional cost. We also strive to offer the fastest solution to your specialist hand controller needs, without compromising on quality. Unlike our competitors, we can offer a custom-designed unit from as quickly as 6 weeks.
Our products are manufactured under an AS9100 approved quality system and are covered by a minimum 2 year warranty. Daco has over 30 years of experience making specialist hand controllers, ensuring that solutions to most problems already exist inside the company.
We welcome your inquiries, please contact us via the links on this page or call +44 1189 817311