Hand Controllers Built for Demanding Applications
Featured Product from Daco Hand Controllers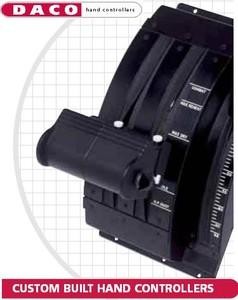 From weapons control and airborne and other defense system controls to remotely operated vehicles and other specialist applications; from ultra-rugged miniature joysticks to handheld (gamepad-style) grips to track balls to completely custom specialist hand controllers ... Daco Scientific can provide you with the ideal controls for your design and application & you won't have to wait months for them
FOR EXAMPLE: The increased use of complex underwater remotely operated vehicles (ROVs) and the need to get maximum use from them has led to greater demand for high reliability, multi-axis hand controllers.
One example of such a hand controller is, Daco's DP174-1, which was designed in conjuction an American customer. This joystick consists of a 3-axis displacement joystick base fitted with a grip containing two force operated miniature joysticks, one 4 way trimmer switch and a rocking trigger switch. In total, 10 axes of control, 7 of which are proportional.
Although the DP174-1 is a custom built hand controller it uses a very high number of "modular" components, and the start-up delivery time for a quantity of 5 is 6 weeks. Purely modular solutions, still backed by Daco's AS9100 quality management system and minimum two-year warranty, are available in as little as 1-2 weeks, often used for early development or evaluation work while an ideal configuration is agreed upon through our rapid, iterative design process
To connect with Daco Scientific visit our website for in depth info, just click on the Product Details web link on the left, or e mail us your inquiries.