Trackballs for Medical Applications
Featured Product from Daco Hand Controllers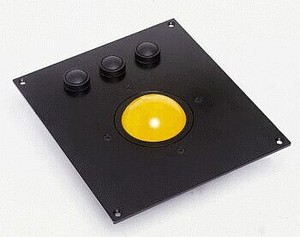 Trackerballs used in the medical sector face a surprisingly difficult operating environment. Most are incorporated into body scanners and are regularly used by operators whose hands are coated in gel. This migrates inside the trackerball and can quickly stop it working. Particularly susceptible to this problem are trackerball designs where the ball is only making point contact with the position sensing encoder.
Daco trackerballs are less affected by this type of contamination because the design does not rely on point contact. Instead the shafts of the motion sensing encoders are fitted with polyurethane foam rollers that mould themselves to the shape of the ball. The resultant large contact area, coupled with the encoder's extremely low operating force, helps keep contamination problems to a minimum.
Even so problems can occur. The foam roller can eventually become clogged and replacement is necessary. At such times the open-frame design of Daco trackerballs means the work can be carried out in just a few moments and usually with the trackerball still in-situ. The high reliability and low maintenance costs of Daco trackerballs explains why they have been chosen by medical equipment manufacturers for over twenty years.
Daco offers modular trackballs, to see details of these visit the links
Visit our website via the link on the right, or e mail your inquiries.