Unusual requirements-we've seen almost everything
Featured Product from Daco Hand Controllers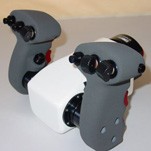 Custom Built Controllers
When it comes to unusual requirements we've seen almost everything. Whatever you need we have the expertise to create a solution, whether it's a particularly resistant finish or the ability to integrate with a unique interface protocol.

We have a particular expertise in developing the best bespoke hand controllers at extremely competitive prices, regardless of order size, in the shortest possible time. Our range of stock components means we can often use modular products as a starting point for even the most complicated jobs, keeping costs down without having to sacrifice functionality or quality. This keeps design and engineering charges to a minimum and makes for the quickest turnaround time.

All Daco products are engineered under an AS9100-approved quality system and are covered by a minimum two-year warranty.
For more detail download our brochure. Our experts are standing by to discuss your requirements, so get in touch for advice and a quotation.