A Complete Range of Standard Disc Springs
Featured Product from Daemar Inc.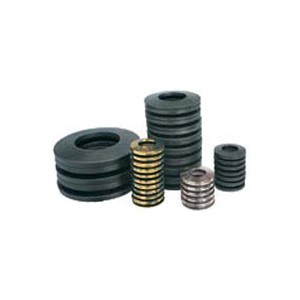 Disc Springs
The complete range of standard Disc Springs
•DIN 2093 Metric Series
•DIN 6796 Series - Belleville Washers
Standard DIN2093 Disc Springs
The Standard Product Range of disc springs (sizes to DIN 2093 and Factory Standards) includes 246 sizes with outside diameters between 6mm and 250 mm. These springs are manufactured from Ck 67 and 50 CrV 4, and are typically available from stock. The standard corrosion protection is zinc phosphating and oiling.
Disc Springs Stacked
Daemar can deliver disc springs pre-assembled in stacks or on a guiding
device. Advantages of stacked include:
Ability to provide stack specific load-deflection diagrams
Small load tolerances possible
100% load testing can be used to verify proper stacking
Assembly is more efficient with preassembled stacks
Belleville Washers - DIN6796
Heavy Duty Belleville Washers or Conical Washers are manufactured as per DIN 6796 in 50 CrV 4 and Ck 67.
Belleville washers are designed to preload bolts and are not intended for applications with dynamic loads.
Disc springs to Factory Standards or other as required
Size range: for bolts from 2mm(#2) up to 30mm(1-1/8")
Standard corrosion protection is phosphating and oiling. (Other coatings are available)
Watch>>>Essential Components for Industry
About Daemar Inc.
Daemar manages the sourcing and delivery of millions of Essential Components to the manufacturing and MRO marketplace. Industry applications are broad; from high volume assembly lines requiring design assistance and supply chain management, all the way to the simple replacement of a single component for maintenance.
follow us on LInkedIn