DMR™ Slotted Shim
Product Announcement from Daemar Inc.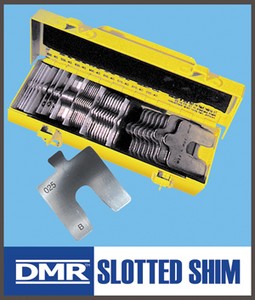 Slotted Shim
DMR™ slotted shims are manufactured from 304 stainless steel. Each kit contains 10 (mini) or 20 (standard) shims of each thickness (.001, .002, .003, .004, .005, .010, .015, .020, .025, .050, .075, .100, .125). Let DMR™ kits provide the right solution for all of your slotted shim applications.
All shims are permanently etched with thickness and size information for ease of selection
Wide slots for versatility and ease of installation
DMR™ Extended Tab for ease of installation
Sturdy steel carrying case aids in organization, storage and transport
Shim-in-a-Can
Shim-In-A-Can was another industry first for DMR™. The unique cylindrical package not only is distinctive but also most effectively protects its contents during transit and use. The fibre container with re-sealable top has many uses in the machine shop shelves for years as storage containers for small parts.
Precision rolled to assure accuracy in all its applications.
Shim Stock is available for 0.0005" to 0.032" thick.
Standard widths are 6" or 12"
Shim stock can be easily stamped, bored, cut, milled, sheared or drilled to suit any application.
Available in Stainless Steel, Brass, Aluminum & AISI 1010 Steel.
---