Molded O-Rings
Product Announcement from Daemar Inc.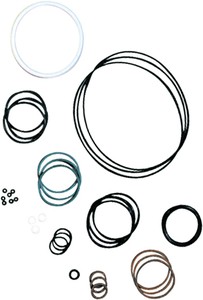 Molded O-Rings
The O-ring is a simple and versatile seal that can be used in thousands of applications. O-rings are manufactured in a wide variety of compounds to suit your every need.
Static Sealing
Most O-Rings are used in static service (the O-Ring and metal surfaces remain relatively fixed). They may be applied as face seals or radial seals. In face seal applications, the O-Ring should seat against the low pressure side of the groove.
Dynamic Sealing
The O-Ring moves relative to the mating surface. A moving seal may be further classified by the type of motion: reciprocating, oscillating, or rotating. The greatest number of dynamic seals are used in reciprocating service in cylinders, valves, and linear actuators. Oscillating motion is encountered in swivels and valve stems. When an O-Ring is used on a rotating shaft, it should be limited to light duty where the shaft speed is low and some fluid bypass is acceptable.
Materials
Buna-N, Viton, EPDM, Silicone, PTFE, Polyacrylate
Durometer Selection
70-durometer hardness should be used wherever possible as it offers the best combination of properties for most O-Ring applications. Softer compounds stretch easier and seal better on rough surfaces. Harder compounds offer greater abrasion resistance and resistance to extrusion.
---
Sizing Systems
AS568 Dash Sizes - Inch Sizes
Standard inch sizes ranging from 1/32" I.D. to 26" I.D.
Boss Tube Fittings
O-Ring sizes for Boss Tube Fittings are available in both 70 & 90 Durometer. These O-Rings are used in applications to provide a seal for straight-thread tube fittings on a boss.
Numbering System: The two digits after the -9 represent the Tube Size O.D. in 16ths of an inch. For example -905 is sized for a Tube O.D. of 5/16". The one exception is for -901 where the Tube Size O.D. is 3/32".

• Boss Tube Fitting O-Ring Size Chart
Metric Sizes
Standard metric sizes ranging from 1.50mm I.D. to 499.30mm I.D.
---