X-Ray Inspectable and Metal Detectable Seals
Product Announcement from Daemar Inc.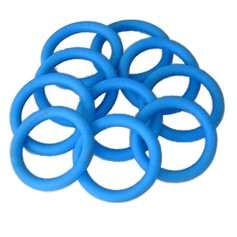 As a result of excessive use, shearing and damage can occur to equipment causing undetectable product contamination. Metal detectables and X-Ray inspectables can eliminate product recall, lower product loss and decrease the risk of elastomers consumed in finished product.
System Protection with Detectable Seals
A common problem with component and filler parts is excessive wear and tear. When rubber breaks off a moving part it can migrate through your system and into your product. Searching for and locating fragmented rubber parts is a costly, time consuming and inconclusive process requiring expensive x-ray equipment, manual observation and an extensive maintenance program. Not locating a worn and lost rubber piece can have an even costlier outcome. By manufacturing a standard elastomer with a metal impregnated compound, displaced rubber material can now be located by an in-line metal detector. This alarm enables your system to instantly reject contaminated product.
Detectable seals are available in standard elastomers including: Buna, Silicone, FKM and EPDM.
---