D25.4 Negative Achromatic Doublets
Featured Product from Daheng New Epoch Technology, Inc.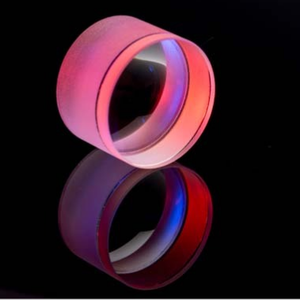 These lenses are computer-optimized for infinite conjugate ratio. While the output rays do not actually meet to form a real point, they appear to be diverging from a virtual point located on the object side of the lens.
Material:Optical glass (crown and filnt)
Focal Length (f'):±2% at 587.6nm
Diameter(φ) Tolerance:+0.0/-0.10
Center Thickness(Tc):±0.1
Centration:3′
Form Error:1~5 fringes
Irregularity of Fringes:0.2~0.5 fringes
Surface Quality:60-40 scratch-dig
Coating:1/4 wave MgF2 coating at 550nm for 0°angle of incidence
Clear Aperture:90% diameter
An achromatic-doublet consists of a negative low-index(crown glass)cemented with a positive high-index(flint glass)lens.