Diff-Therm Platen Heaters
Featured Product from Dalton Electric Heating Co., Inc.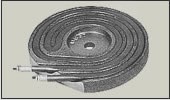 Diff-Therm Platen Heaters are high-quality tubular heating elements swaged under 50 tons of pressure into grey iron castings. For 25 years, Diff-Therm heaters have set the standard for long-life, evenly distributed process heating and efficient power generation.
Complete Range of Pump Heater Shapes and Sizes
Over 100 combinations of electrical ratings and casting sizes from 2" to 48".
Sizes, shapes and bolt patterns designed to fit OEM pumps.
Custom castings and electrical ratings available
for obsolete or foreign-made pumps.
Effective replacement for cast-in heaters, tubular /crush plate heaters, and pancake-style heaters.
Outperform Original Equipment Heaters
Unique swaged assembly provides increased dielectric density for better heat transfer and longer heater life.
"Full Power" heaters that produce 20% more heat than OEM heaters.
Flat, smooth platen surface assures uniform, efficient heat transfer.
Increases pump throughput and higher vacuum system processing rates.
One-Piece Assembly Simplifies Installation
Simpler and faster to install than conventional tubular/ crush plate systems
Proper alignment never a problem
Watt-Flex Split-Sheath Cartridge Heaters Outperform Conventional Heaters
Split-sheath design expands when energized for better heat transfer - especially in oversized bores.
Warranted removal - heater contracts when de-energized for easy removal
About Dalton Electric Heating Company:
Since 1921, Dalton Electric has been a leader in industrial process heating.
Dalton heaters are used for industrial process heat applications in automotive, aerospace, plastics, adhesives, semiconductors, and many other industries throughout the world. Products include the Watt-Flex® split-sheath cartridge heater and immersion heater, Diff-Therm® platen heaters for vacuum diffusion pumps, and related high-temperature accessories and heater modifications.