Don't get STUCK with BORE SEIZURE
Featured Product from Dalton Electric Heating Co., Inc.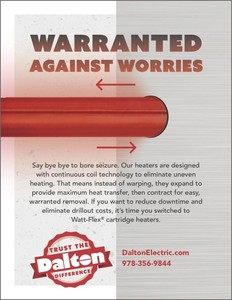 Unlike conventional cartridge heaters, the Watt-Flex® Split-Sheath Cartridge Heater is manufactured with two semicircular legs that expand bi-laterally when the heater is energized. These legs make intimate contact with the walls of the bore, maximizing heat transfer, using less energy to maintain set-point temperature and significantly extending the life of the heater.
When the Watt-Flex® heater is de-energized, the legs retract to nearly their original size, allowing for easy removal of the heater from the bore. This feature makes the Watt-Flex® Cartridge Heater the logical choice of machine manufacturers for use in small, long sealing bars and large, long platens which are nearly impossible to drill out.
Watt-Flex® cartridge heaters are warranted removable from the bore.
TRUST THE DALTON DIFFERENCE!
Watch>>>Cartridge Heaters Eliminate Bore Seizure
Watch>>>Watt-Flex® Cartridge Heaters Eliminate Uneven Heating
Watch>>>Watt-Flex® Cartridge Heaters Reduce Cost of Heating

Reduce your total cost of heating with Watt-Flex® Cartridge Heaters. Watt-Flex's unique continuous coil provides an efficient, uniform heat transfer resulting in longer heater life. The split-sheath design allows for easy removal, reducing maintenance and down time costs.
Process Heating Engineering Data and Application Design Considerations
Contact us today to find out how Dalton can make a difference in your application!
Click here to request or download Watt-Flex Cartridge Heater product literature.
About Dalton Electric Heating Company:
Since 1921, Dalton Electric has been a leader in industrial process heating.
Dalton heaters are used for industrial process heat applications in automotive, aerospace, plastics, adhesives, semiconductors, and many other industries throughout the world. Products include the Watt-Flex® split-sheath cartridge heater and immersion heater, Diff-Therm® platen heaters for vacuum diffusion pumps, and related high-temperature accessories and heater modifications.