Even heat with Watt-Flex® Cartridge Heaters
Featured Product from Dalton Electric Heating Co., Inc.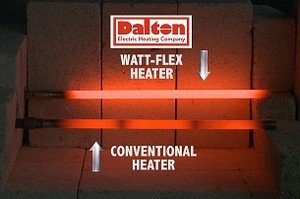 Watch>>>Watt-Flex® Cartridge Heaters Eliminate Uneven Heating

Unlike conventional cartridge heater designs, Watt-Flex® cartridge heaters use a continuous heating coil that allows for a more uniform temperature profile. A continuous coil eliminates cool spots typically seen at segment junctions as well as coil segments that can burn out individually causing costly down-time and maintenance.
Uniform Temperature Profile
Uniform sheath temperature is vital when molding heat-sensitive plastics where the temperature window between gate freeze-off and material degradation is very narrow. Test results highlight the superior temperature profile along the length of a torpedo probe heated by a Watt-Flex® heater. Watt-Flex Temperature Profiles By varying the watt-density, Watt-Flex® heaters can also be configured for customized temp. profiles with varying zones of heat along the heater.
TRUST THE DALTON DIFFERENCE! To find out how Dalton Watt-Flex heaters can make the difference in your application, call us today at (978) 356-9844.
Click here to request or download Watt-Flex® Cartridge Heater product literature.
Watch>>>Cartridge Heaters Eliminate Bore Seizure
Watch>>>Watt-Flex® Cartridge Heaters Reduce Cost of Heating
Watch>>>Watt-Flex Cartridge Heaters from Dalton Electric Heating Co.
Process Heating Engineering Data and Application Design Considerations
About Dalton Electric Heating Company:
Since 1921, Dalton Electric has been a leader in industrial process heating.
Dalton heaters are used for industrial process heat applications in automotive, aerospace, plastics, adhesives, semiconductors, and many other industries throughout the world. Products include the Watt-Flex® split-sheath cartridge heater and immersion heater, Diff-Therm® platen heaters for vacuum diffusion pumps, and related high-temperature accessories and heater modifications.