Reduce Your Cost of Heating!
Featured Product from Dalton Electric Heating Co., Inc.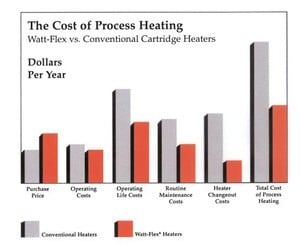 What is more important to your company's production: up front cost of the heater or total cost of heating? Making purchasing decisions based on the total cost of heating rather than the price of the heater is the mark of an effective professional.
The purchase of a Watt-Flex cartridge heater may be slightly higher than a conventional cartridge heater. But that is only one component of the education decision-making process.
Because Watt-Flex heaters transfer heat more effectively through maximized contact with the wall of the bore, less power is consumed to maintain the set point temperature. This results in reduced operating costs.
Watt-Flex heater construction eliminates the ceramic core typically found in the conventional heater. This allows increased dielectric compaction and better insulation which, combined with better heat transfer, results in significantly longer heater life.
Watt-Flex heaters generally last 50% longer than conventional heaters. Heating cost is reduced since far fewer heaters are used in the course of a year. Additionally, routine maintenance costs are cut and down time for heater replacement is controlled.
Because Watt-Flex cartridge heaters contract when de-energized and eliminate bore seizure, expensive drill out and maintenance costs are sharply reduced. And ease of heater change out saves the bore from damage that can hinder future performance.
When all cost reductions are factored into the Cost of Heating calculation, the Watt-Flex cartridge heater provides a 40% cost reduction on average. This makes the Watt-Flex cartridge heater the heater of choice for process heating.
About Dalton Electric Heating Company:
Since 1921, Dalton Electric has been a leader in industrial process heating.
Dalton heaters are used for industrial process heat applications in automotive, aerospace, plastics, adhesives, semiconductors, and many other industries throughout the world. Products include the Watt-Flex® split-sheath cartridge heater and immersion heater, Diff-Therm® platen heaters for vacuum diffusion pumps, and related high-temperature accessories and heater modifications.