Sealing Success with Watt-Flex® Cartridge Heaters
Featured Product from Dalton Electric Heating Co., Inc.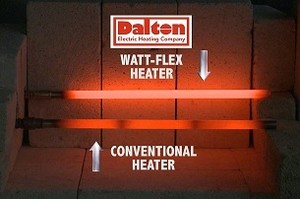 Packaging machines generally utilize smaller diameter heaters that extend some considerable length through the sealing bar. Over time a conventional heater will seize up in the bar due to warping, uneven heating and contamination. The small diameter heater is very difficult to remove without damaging the bar and, if drilling out is required, the likelihood of ruining the bore is high. The Watt-Flex cartridge is warranted to be removable and will not cause damage to the bore.
Conventional cartridge heaters are manufactured with a varying number of resistance cores, depending on the length of the heater. They are wired in parallel and segments can burn out independently, causing a cold spot on the sealing bar and rendering the bar incapable of a consistent seal. The continuous coil construction within Watt-Flex ® Cartridge heaters solves problematic junction failure, keeping production running!
See the below video demonstrating the "Dalton Difference" when it comes to laminating and sealing applications
Watch>>>Watt-Flex® Cartridge Heaters Eliminate Uneven Heating
Click here to request or download Watt-Flex Cartridge Heater product literature.
Watch>>>Cartridge Heaters Eliminate Bore Seizure
Watch>>>Watt-Flex Cartridge Heaters from Dalton Electric Heating Co.
Process Heating Engineering Data and Application Design Considerations
About Dalton Electric Heating Company:
Since 1921, Dalton Electric has been a leader in industrial process heating.
Dalton heaters are used for industrial process heat applications in automotive, aerospace, plastics, adhesives, semiconductors, and many other industries throughout the world. Products include the Watt-Flex® split-sheath cartridge heater and immersion heater, Diff-Therm® platen heaters for vacuum diffusion pumps, and related high-temperature accessories and heater modifications.