TRUST THE DALTON DIFFERENCE: Watt-Flex® Heaters
Featured Product from Dalton Electric Heating Co., Inc.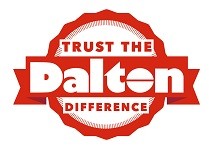 Uneven Heat: Unlike conventional cartridge heaters, Watt-Flex® cartridge heaters use a continuous heating coil that allows for a more uniform temperature profile. Watt-Flex Temperature Profiles Test results highlight the superior temperature profile along the length of a torpedo probe heated by a Watt-Flex® heater. Dalton Electric - Eliminate Uneven Heating
Eliminate Bore Seizure: Watt-Flex® cartridge heaters are warranted removable from bores because their split-sheath design prevents warping. Split-sheath construction allows the heater to expand bilaterally when energized. When de-energized, the heater contracts uniformly to ease removal from the bore. Dalton Electric - Eliminate Bore Seizure
Cost Savings: With all of the unique design factors, Watt-Flex® heaters last up to 50% longer resulting in fewer heaters used annually. Routine maintenance costs and down time are reduced or eliminated. While the initial purchase price of Watt-Flex® cartridge heaters may be slightly higher than conventional cartridge heaters, the benefits of switching to Watt-Flex® are easily recognized by Maintenance Managers, Process Engineers and Purchasing Professionals who understand production costs, maintenance shop hours and the total cost of heating. Dalton Electric - Reduce Cost of Heating
Since 1921, Dalton Electric has been a leader in industrial process heating. Made in Ipswich, MA and shipped to over 50+ Countries, Watt-Flex® heaters are used for industrial process heat applications in automotive, aerospace, plastics, adhesives, semiconductors, and many other industries throughout the world.
To find out how Dalton Watt-Flex® heaters can make a difference in your application contact us (978) 356-9844 Or visit our website to request or download Watt-Flex Cartridge Heater product literature.