Watt-Flex® Custom Crafted Cartridge Heaters
Featured Product from Dalton Electric Heating Co., Inc.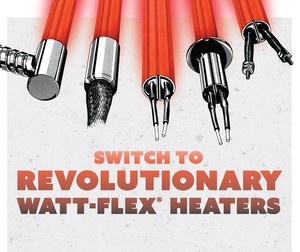 With almost 100 years of experience manufacturing cartridge heaters, Dalton Electric has the engineering expertise and production capabilities to design and produce customized cartridge heaters.
Watt-Flex® heaters offer integral and unique design capabilities such as our HOT-TIP option, specified cold sections as well as engineered ZONED WATTAGES. Options such as various lead wire offerings, mounting modifications and contaminant protection are value-added accessories that can lengthen the life of your heater and make the difference in your application!
TRUST THE DALTON DIFFERENCE!
Visit us online http://www.daltonelectric.com or call us direct at (978) 356-9844 to find out how Watt-Flex® heaters can be customized to fit your application!
Click here to request or download Watt-Flex® Cartridge Heater product literature.
Watch>>>Cartridge Heaters Eliminate Bore Seizure
Watch>>>Watt-Flex® Cartridge Heaters Reduce Cost of Heating
Watch>>>Watt-Flex Cartridge Heaters from Dalton Electric Heating Co.
Process Heating Engineering Data and Application Design Considerations
About Dalton Electric Heating Company:
Since 1921, Dalton Electric has been a leader in industrial process heating.
Dalton heaters are used for industrial process heat applications in automotive, aerospace, plastics, adhesives, semiconductors, and many other industries throughout the world. Products include the Watt-Flex® split-sheath cartridge heater and immersion heater, Diff-Therm® platen heaters for vacuum diffusion pumps, and related high-temperature accessories and heater modifications.