Watt-Flex® HOT-TIP Cartridge Heaters
Featured Product from Dalton Electric Heating Co., Inc.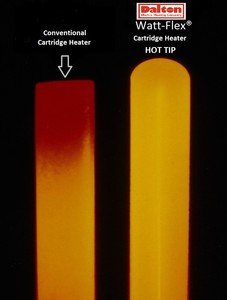 Watt-Flex® Cartridge Heaters use a continuous coil construction that can deliver either full or reduced power at the tip to suit your process heating application. A unique feature of the Watt-Flex® Cartridge Heater design is our ability to offer a HOT TIP option.
Used in injection molding heat probes, for example, the Watt-Flex® HOT TIP option can minimize undesirable gate freeze-off. The HOT TIP has also been utilized in branding, plastic perferation and process applications where heat is required at the tip of the heater.
Conventional heater designs prohibit heated tips:
Watt-Flex heaters, however, can be constructed with hot or cool tips by either concentrating or stretching the continuous coil inside the densely compacted MgO dielectric as shown below:
A Watt-Flex® HOT TIP should be used in applications where the cartridge heater can be fully seated within an enclosed bore. We also offer flanges and mounting bracket options to help achieve and maintain end of bore contact.
Process Heating Engineering Data and Application Design Considerations
To find out more information about our HOT TIP feature or any of our custom heater offerings, call us today at (978) 356-9844. Or, click here to request or download Watt-Flex Cartridge Heater product literature.
About Dalton Electric Heating Company:
Since 1921, Dalton Electric has been a leader in industrial process heating.
Dalton heaters are used for industrial process heat applications in automotive, aerospace, plastics, adhesives, semiconductors, and many other industries throughout the world. Products include the Watt-Flex® split-sheath cartridge heater and immersion heater, Diff-Therm® platen heaters for vacuum diffusion pumps, and related high-temperature accessories and heater modifications.