Watt-Flex® Heaters: Precision Heat = Super Savings
Featured Product from Dalton Electric Heating Co., Inc.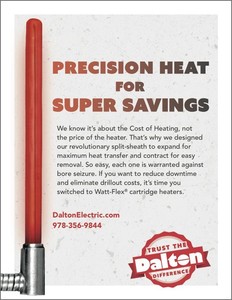 We know it's about the cost of heating, not the price of the heater. There are many factors when evaluating your total cost of heating. The benefits of using Watt-Flex® cartridge heaters include operating cost reduction, longer operating life (fewer heaters bought per year), reduction of maintenance and heater changeout costs and reduced machine down-time.
The Dalton Difference is easily recognized by Maintenance Managers, Process Engineers and those who understand production costs and maintenance shop hours. The motivation to change such an intergral process part is usually prompted by those who work with heaters daily.
To find out how Dalton Watt-Flex heaters can reduce your process heating costs, call us factory-direct today at (978) 356-9844.
Watch>>>Eliminate Bore Seizure with Watt-Flex® Cartridge Heaters
Watch>>>Eliminate Uneven Heating with Watt-Flex® Cartridge Heaters
http://daltonelectric.com/index.php/the-watt-flex-advantages/last-5-times-longer
Process Heating Engineering Data and Application Design Considerations
About Dalton Electric Heating Company:
Since 1921, Dalton Electric has been a leader in industrial process heating.
Dalton heaters are used for industrial process heat applications in automotive, aerospace, plastics, adhesives, semiconductors, and many other industries throughout the world. Products include the Watt-Flex® split-sheath cartridge heater and immersion heater, Diff-Therm® platen heaters for vacuum diffusion pumps, and related high-temperature accessories and heater modifications.