NAMCO Nuclear Qualified Safety Limit Switches
Product Announcement from Specialty Product Technologies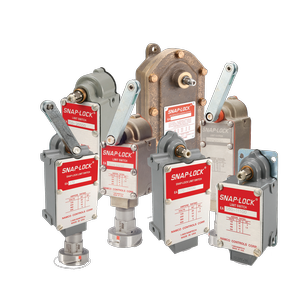 NAMCO is the demonstrated world leader in heavy industrial control sensors - the Snap Lock™ line of limit switches are known for over 60 years of rugged reliability under the most brutal conditions. NAMCO has the largest installed base of nuclear qualified switches in the world. Trusted more than any other brand, we provide critical position indication solutions where failure is not an option.
Namco Controls grew from the heavy duty side of the industrial world. For decades, Snap Lock® limit switches have been the benchmark in reliability for steel mills, auto factories, foundries, power plants and machine shops. In 1938, the need for a limit switch of high quality, repeatability, and reliability was pressing - but one didn't exist. Namco Controls was therefore created to design and manufacture limit switches for our own needs. Innovative and reliable from the beginning, they were eagerly sought after by other companies, and we branched out into supplying the demand.
Everything that made Namco Snap-Lock Limit Switches the preference of the heavy and machine tool industries of the past is still applicable today. Times may have changed, but our reputation for reliability has not.Today, Snap-Lock still provides unparalleled reliability in the toughest environments and in heavy-duty applications. This superior limit switch provides a huge range of operation, construction, and practical flexibility. You can choose a model, size, and type that will meet and exceed the demands you place on it. In every respect, Snap-Lock has the features and benefits you insist on in a limit switch.
In addition to easily covering all your functional requirements, Snap-Lock Limit Switches will meet practically every application. They have the ruggedness to operate under the most severe conditions and have the durability needed for a long, trouble-free lifespan.
NAMCO developed the world's first nuclear qualified limit switch with Westinghouse in 1972.
NAMCO is one of the only limit switches approved for use in the US and is heavily deployed in American reactor derivatives worldwide.
NAMCO has completed special qualifications for Westinghouse, GE, AECL, B & W and KOPEC design specifications.
In 1990, NAMCO developed our first nuclear qualified quick disconnect connector to provide sealing on our SNAP-LOCK® limit switch.
Our world class manufacturing business system has complies with 10CFR50 Appendix B, 10CFR part 21, and ANSI N45.2.
Manufacturing operations in Germany and China.
Namco Switch Features
Die-cast bronze housing and stainless covers for corrosion resistance inside containment
Gold-plated contacts to minimize resistance.
Three mounting styles for easy installation in a variety of applications.
Multiple operating lever styles available for flexibility in design and ease of installation
Available with quick-disconnect connectors and cables in a variety of configurations and lengths.
---