Danatronics Most Versatile Videoscope
Featured Product from Danatronics Corporation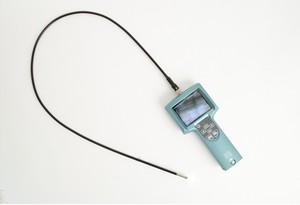 The Boreseye2030 is designed for use with small-diameter interchangeable articulating and non-articulating camera assemblies. Non-articulating cable lengths range from 1 meter to 30 meters and are available in flexible, semi-rigid and even a 30 meter push rod option. 2-way articulating cameras assemblies are available up to 3 meters in length. Both camera styles are offered in diameters as small as 3.9 mm.
The BoresEye2040 is the successor to our much loved ForeEyes 2020 series. It is sold as a complete kit and can accept any of the accessories used with the SnakeEye camera system. The kit includes a 1.19" camera head that attaches to an 18 inch wand that is able to articulate up to 90 degrees vertically.
About Danatronics
Danatronics Corporation is a new high technology company specializing in the field of Non-Destructive Testing (NDT). Their mission is to provide the highest level of product innovation and quality as well as an outstanding level of customer satisfaction.

Danatronics Corporation combines the experience of more than 40 years of NDT know-how in the areas of Ultrasonic Transducers, Thickness Gages, and Flaw Detectors as well as offerings in Hall-Effect Thickness Gages and Video Inspection Equipment. Their staff combines the talents of key personne lwho have invented, developed, marketed, and sold Ultrasonic NDT Electronics on a global basis for the last four decades.