High Quality, Durable Articulating Fiberscopes
Featured Product from Danatronics Corporation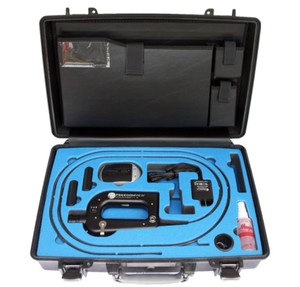 Available in 4 and 6mm, the Freedomview is a line of portable, 2-way articulating small diameter fiberscopes. The compact system has a patent pending integrated light source that provides exceptional light and visual clarity. Available in diameters as small as 3.2mm, this is the ideal unit for jobs that demand a rugged and reliable unit.
Features:
High Intensity LED Light Source (5500 Kelvin/Natural Sunlight Quality) for fast, accurate visual inspection.
Two-way articulation at tip.
Adaptable to video/digital camera.
Integrated LED light source eliminates the need for separate light sources and cables.
Typical Applications:
Aviation Engine Inspection
Automotive Inspection
Law Enforcement
Castings
General Inspection
Building & Construction